Andrew Schlieffen /Andromeda Vadum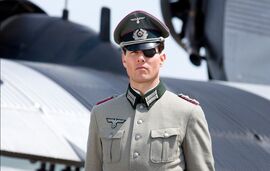 Welcome!
Hello there! Im Andrew Schlieffen - an administrator/founder of Modern Wikia & Valkyrie Movie Wikia, you can contact me through my talk page if you need help.
To Do
Work on articles on Modern Wikia
Work on articles on Valkyrie Movie Wikia if needed to
Achieve a goal of 1000 edits
Achieve the Modern Wikia goal of 10,000 articles
About me
My xbox live gamertag will be: Sgt. Andrew, Andromeda Vadum, or Andrew12345 I haven't decided yet.
I live in Forest Falls, United States
My future job is to be a Military Patrol for the U.S. Army
In real life
My name is Andrew Reno and live in the United States. I'm unemployed but looking for work now. I like real work with the wikia and other sites.

Favorite Historical Person
Claus Philipp Maria Schenk Graf von Stauffenberg (15 November 1907 – 21 July 1944) was a German army officer and Catholic aristocrat who was one of the leading members of the failed 20 July plot of 1944 to kill German dictator Adolf Hitler and remove the Nazi Party from power in World War II Germany. Along with Henning von Tresckow and Hans Oster, he was one of the central figures of the German Resistance movement within the Wehrmacht.
Projects
Other User Names I carry
Andromeda Vadum
Sgt. Andrew
Andrew12345
Elite12345