Baseball Tournament Template goes here
Baseball Itself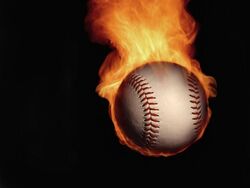 Baseball is a bat-and-ball sport played between two teams of nine players each. The goal is to score runs by hitting a thrown ball with a bat and touching a series of four bases arranged at the corners of a ninety-foot square, or diamond. Players on one team (the batting team) take turns hitting against the pitcher of the other team (the fielding team), which tries to stop them from scoring runs by getting hitters out in any of several ways. A player on the batting team can stop at any of the bases and later advance via a teammate's hit or other means. The teams switch between batting and fielding whenever the fielding team records three outs. One turn at bat for each team constitutes an inning; nine innings make up a professional game. The team with the most runs of baseball developed. By the late nineteenth is sometimes referred to as hardball, in contrast to the derivative game of softball.In North America, professional Major League Baseball (MLB) teams are divided into the National League (NL) and American League (AL). Each league has three divisions: East, West, and Central. Every year, the champion of Major League Baseball is determined by playoffs that culminate in the World Series. Four teams make the playoffs from each league: the three regular season division winners, plus one wild card team. Baseball is the leading team sport in both Japan and Cuba, and the top level of play is similarly split between two leagues: Japan's Central League and Pacific League; Cuba's West League and East League. In the National and Central leagues, the pitcher is required to bat, per the traditional rules. In the American, Pacific, farm system of one or more minor league teams. These teams allow younger players to develop as they gain on-field experience against opponents with similar levels of skill.

Baseball News...
Lincecum eyes success past 100th start
Tim Lincecum has sustained almost unparalleled success as he approaches his 100th career start, but he knows that he must work harder to attain similar proficiency in his next 100 outings and beyond. Read More
From rags to riches, Rays quite the story
Carl Crawford arrived at Tropicana Field in 2002 as a raw but gifted athlete happy to reach the Major Leagues before his 21st birthday. Read More
Community content is available under
CC-BY-SA
unless otherwise noted.