"INCOMING CONTACT, UNKNOWN CLASSIFICATION!"
This article has new content coming soon, and may not be complete, confirmed or correct. Please update it as soon as any relevant and accurate material is available.
Call of Duty: Modern Warfare 3 (abbreviated as Call of Duty: MW3) is an upcoming first-person shooter video game currently in development by Infinity Ward with assisted development from Sledgehammer Games and Raven Software co-developing multiplayer development. It will be the third installment in the Modern Warfare series, and the eighth Call of Duty installment in total.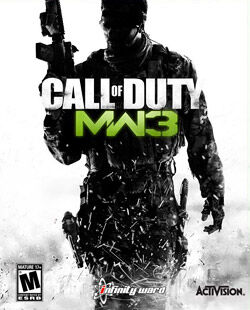 Development
[
]
Call of Duty: Modern Warfare 3 was known to be in development after a legal dispute between Infinity Ward co-founders Jason West and Vince Zampella and Activision resulted in the pair being fired from the company. Several Infinity Ward employees followed West and Zampella as a result of the ongoing dispute, causing Activision to enlist the services of Sledgehammer Games and Raven Software to assist development of the title.
On May 13, 2011, four teaser trailers were released on the official Call of Duty YouTube page, separately titled "America", "England", "France" and "Germany", indicating the various locales of the game. The same day, video game website Kotaku leaked various tidbits of information about the game, confirming that it would be a direct sequel to Call of Duty: Modern Warfare 2, as well details regarding weapons, levels and modes found in the game.[5]
On May 23, 2011, Activision released the first gameplay trailer for Call of Duty: Modern Warfare 3 on YouTube ahead of its official premiere during the NBA Western Conference Finals.
On May 31, 2011, Activision announced Call of Duty Elite, a brand new social service for the Call of Duty community to track and compare statistics, create videos and access premium content. The service will be fully integrated into Call of Duty: Modern Warfare 3, and will launch to coincide with the game's release.
Synopsis
[
]
Characters
[
]
The game will see the return of Task Force 141 Captain "Soap" MacTavish, Ex-SAS Captain Price,Ghost and Russian informant "Nikolai" who are on the run after killing the rogue U.S. Army Ranger Lieutenant General Shepard. Russian Ultra-nationalist Vladimir Makarov will also return as the game's primary antagonist.
Plot
[
]
The game will immediately follow the events of Call of Duty: Modern Warfare 2, where Russia continues its invasion of the United States of America, and has also expanded its offensive to Europe, including England, France and Germany.[8]